How to Build A Successful Photography Affiliate Website
Now that photoluminary has been around for over six months, I can proudly state that it has become profitable.  This is true in spite of the fact that I have barely written any posts in the past six weeks or so.  I've actually had this post, How to Build a Successful Photography Affiliate Website, planned in my mind for about a month.  I'm finally doing it!
Early pregnancy kicked my butt a bit.  OK a lot.  At this point I'm not getting sick and only have some fatigue and resulting lack of motivation to deal with.  However, there is nothing more productive than simply forcing yourself to do things even if all you want to do is curl up under a blanket and stare blankly at a TV.  In reality I don't really want to just waste my life watching TV, so here I sit typing on my laptop instead.  There is more than enough chi to share with my growing fetus and still get a few things done darn it!
So, let me give a little bit of background on my internet marketing endeavors.  In 2009 I first became interested in making a living online.  I was a total newbie and fell for a lot of incorrect information.  The biggest lie I fell for was the idea of "get rich quick online".  I suppose there are a small handful of people who have done just that, but they are not the majority.  I've since learned from my own experience and from reading blog posts from successful bloggers that I highly respect, that the truth is almost always something different.
"Get rich slow with lots of hard work" is the truth of the matter.  All of those sleazy "get rich quick for no effort" ebooks selling for "only" $79.99 or some other ridiculous amount of money are nothing but scams.  If you land on a site that bombards you with pop-ups begging you to give your email address, is full of giant red text, yellow highlighting and lots of testimonials which contain the word "killer", just run!
I had some small initial financial success with marketing a few health related ebooks from Clickbank. I hadn't quite made the mental connection between marketing and doing what you really love yet, which is art and photography, so most of my marketing work didn't really have genuine enthusiasm behind it.  I grew weary of writing articles about books that I didn't really care about in order to make money.  I guess I'm just one of those people that needs true personal meaning in their work.  I suspect that a lot of creative people are like this actually, especially self-employed creative people.  There is indeed a reason we have rejected the traditional work force and I think it has to do with finding personal meaning in our lives.
About a year ago I made the decision to continue to strive to earn income online, but to only pursue opportunities that I felt personally attached to in some way.  Not only did this decision bring my goals in alignment with what I enjoy, but it fulfilled my spiritual needs as well.  I firmly believe that what I put out is what I get back.  The more I live this way, the more good seems to come my way.
At first I was going to mostly abandon affiliate marketing and focus on earning money with my photography and textures via microstock sites.  As fun as this was, it wasn't as quickly lucrative as I had hoped it would be.  I do make money with my images and I do still upload some on occasion, but this is not my main focus online.  I also found that I stopped taking photos just for the art of it since I was so focused on stock.  That didn't feel good.  Now, I mostly focus on art and if I happen to be in front of a good stock image, or if I feel like designing a texture in Photoshop, then I have a few more things to add to my stock portfolios.
I think at this point I should begin outlining how to start building a successful photography affiliate website.  Since it is easiest to digest information when it is in a step by step chronological format, that is just what I will do.
1.  Pick a domain name.  You want there to be a photography related keyword worked into the domain somehow.  This helps with both search engine optimization, which I will explain later in this post, as well as brand recognition.  In my case I chose to include the word "photo" in my domain name, since my site is about all things photography.  However, if you want to start a site that has a more narrow niche, such as HDR photography or 3D photography, then it is best to work these terms into the domain.
You can choose to use hyphens or not in your domain as Google doesn't really care either way.  The exception to this is including more than three hyphens.  This can be viewed as spammy by Google, and may effect your rankings.  Also, if you want to build an easily remembered brand it's best to leave out hyphens as people will usually not remember them if they attempt to enter your domain directly into their browser.
It's best to go with a .com whenever possible.  This is because most people will always assume that your domain extension is indeed .com and you may miss out on traffic if you instead choose .net, for example.
A .com domain is going to run you only about $9 per year.  It's best to purchase a domain for 5 years or more as this will lend some instant credibility to your site in the eyes of Google.  Too many spammers purchase "throw away" domains for only one year.  Google will know you are more serious about your domain if you are willing to invest in it for more than one year, and it is known to give a little bit of a boost to your site in search results.
There are lots of websites to purchase domains, but I always use Dynonames.  I did try a few other sites for both domains and site hosting, but found their customer service to be horrible.  Dynonames has been great to me so far and will always take the time to walk me through any problems or questions that have come up.
2.  Once you have your domain it's time to purchase some hosting.  I use Dynonames for this as well.  For as little as $4.00 per month you can host a website.  You may find later that you have to upgrade a little and perhaps go with the $7.00 per month plan, which is still very cheap.
3.  Your next step is to build the website itself.  I'm not going to go through the installation steps for WordPress here since different hosts may have different steps.  However, here is a link to the instructions on the Dynonames site:
Installing WordPress On Your Hosting Account
I would recommend purchasing a professionally designed template.  This gives a great first impression, which is vitally important.  Also, these templates are usually coded better so search engine spiders will find it easier to read your content, and this will likely give you a little boost on search results over time.
WordPress comes preinstalled with the default WordPress theme.  To upload a new theme, you can do so under "Appearance" in the WordPress dashboard.
Here are my favorite premium WordPress template sites:
4.  OK.  Now you have a domain, hosting, and a WordPress site.  It's time to start adding content.
First, Google likes large sites which have a narrow focus.  So, my site is doing very well since every article is mostly about photography.  Sites with an even narrower niche, such as a site about HDR photography, have the potential to rank very well and relatively quickly.
Most bloggers stick to some sort of schedule, or at least advise making it a priority to post regularly.  I would agree that this is important.  In recent days I haven't been practicing what I preach since I've been a bit incapacitated.  But prior to falling pregnant I was writing an average of three posts per week.  Some bloggers advocate writing three posts per day.  I find this too time consuming since I have a family and other responsibilities to attend to.  If you have the time, then more than one post per day is a good idea.  The more content the better.
5.  Keywords.  The keywords used in your title and to a lesser degree your post are absolutely paramount to being seen on Google and other search engines.  Basically, you want your title to contain the main keywords or keyword phrase and you want the rest of the post to back up the title.
Some people would advocate making sure that you use the exact keyword phrase in the text of the article every 100 words or so.  Personally, I find this is not really necessary.  Also, Google recently came up with more sophisticated ways of reading an article, and takes into account supporting words, variants on the main keywords, and related phrases.  I would advocate writing in a way that is natural to you, work in the keywords a couple of times, and if you are basically sticking to your subject then Google will have no problem knowing what your article is about.
Choosing the right keywords is also very important.  Perhaps you want to write an article about "Digital Photography".  This is a very broad subject with a ton of competition.  In fact, a Google search brings up 114,000,000 results!  Your brand new photography affiliate website doesn't stand a chance of ranking anywhere that might bring traffic.
What you want are "long tail keywords", which are phrases that contain more than two words.  Ideal long tail keywords have a high search volume but low competition.  There are lots of premium tools out there for finding good keywords, but you can use Google's own tools and find them for no cost at all.
First you need to create an Adwords account.  Once you have created an Adwords account you can then go to the Keyword tool which can be found under "Tools and Analysis".
Once you are in the keyword tool you will first need to check that the box next "Phrase" under "Match Type" is checked.  This will give a more accurate traffic number for each keyword.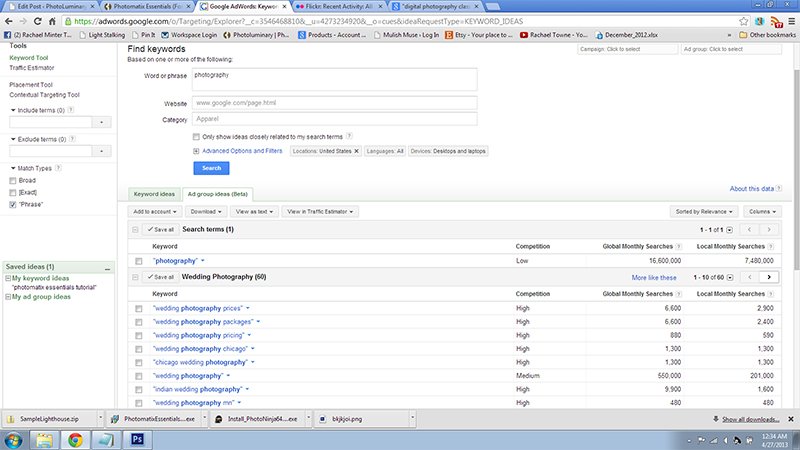 As you can see from the screen-shot, Adwords will give you related keywords to work with.  Anything over 1,000 searches per month is good, but don't neglect words with a small number of searches either.  If you can rank on page one of Google for a keyword with a small number of searches, then you will get a little bit of traffic.  A lot of pages which each get a little bit of traffic can add up to a lot of traffic to your site over time.
You will need to ignore the competition column as this indicates Adwords competition and not Google search competition.  To determine Google search competition, you will need to type each keyword into Google search with quotes around it.  This will give you the approximate number of competing websites for that keyword.
For example:
The keyword "Digital Photography Classes" has 91,200 competing sites.  This is still too competitive for a new website.  It is actually best to stick to terms which have less than 10,000 competing websites.  If your article is well optimized, unique (very important) and long enough to rank, usually a minimum of 400 words (but 800-1200 is ideal), you have a chance of ranking in the first few pages of Google right off the bat.
After looking through the keyword list under "Digital Photography", I found a term that fits the low competition criteria. "Film vs digital photography" at only 5,300 competing sites, would be a good keyword for a new site to write an article on.
The keyword finding process can be used in any niche both wide and narrow.  I usually make lists.  For example, I find all of the good keywords for HDR photography and then place them on their own list.  I then do the same for Photoshop, or Microstock.  Once I have my lists, I have a bunch of very targeted articles to write.
6.  Google determines how important your site is primarily by counting how many inbound links there are to your site.  So, to beat out your well-optimized competition you need to have more quality links pointing to your website than they do.
Not just any links will do.  In fact, spamming your site randomly thousands of times all over the internet will do more harm than good.  Never spam.  Google will penalize you for it.  Instead focus on building quality links such as from writing articles for article directories, leaving relevant comments on related blogs, and getting links from Twitter, Facebook, and other social bookmarking sites.  Also, join forums and add your website to your profile and signature.  However, don't spam forums with lame comments just to get links to your site.  Actually participate and you likely won't get yourself banned!
Internal links count too.  If you have multiple posts that are in some way related, be sure to cross-link them.  Doing this will boost the authority of other pages on your site.
My favorite and most effective sites to get backlinks are as follows:
7.  Finally, most websites that sell products have an affiliate program which will allow you to earn commissions on sales.  Usually if you look around at the bottom of the page, and sometimes even near the top, you will see a link that says something like "affiliates" or "become an affiliate".  Sometimes this link will be found on only one page, so it can pay to look around for it.  A few times I have chosen to write customer service to find out if the site offers an affiliate program, but this is usually not fruitful.
Once you are signed up and approved as a photography related affiliate, most sites will provide a few basic marketing materials such as banners and text links.  Some have pre-written articles you can place on your site.  I would strongly suggest not using the pre-written articles as they are not unique content and will never rank in search engines.  Also, if you are trying to build your brand all of your content should be yours.
I currently promote several brands of photography related software and my favorite microstock sites.  Photoluminary is about 6 months old and now makes about $600 per month.  I only spend about 8 hours per month working on this site and overhead is only about $7 per month.  This means that my work is now averaging a return of about $75 per hour.
In another six months at this pace, I expect this site to be making at least $1,000 per month.  This will be like making $125 per hour.  Not bad.  If I didn't have a two year old to care for all day, and didn't need to sleep at night, I could pour many hours per day into this site and make a good living fast.  In fact, now that I'm feeling much better and have the financial pressure of a new baby on the way, I'm looking at ways to increase how much time can be spent online building photoluminary.
To make your articles most effective, they should usually be reviews and/or tutorials of the websites and products you are trying to earn from.  If you take your time to build an informative and helpful resource for targeted visitors and get good traffic to your pages, you will earn money!  I try to add lots of screen-shots and images to reviews and tutorials.
I make sure to tell the entire truth when representing a product.  Not only will this maintain your reputation, but you will feel good about what you are doing.  This enthusiasm will show in your work and people will sense that you are being genuine.
I hope that I have written a fairly comprehensive guide on how to build a successful photography affiliate website and I hope you find success!  A little healthy competition will keep me on my toes.